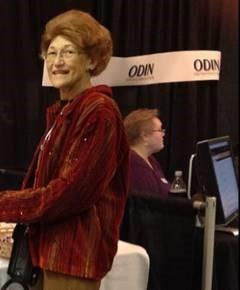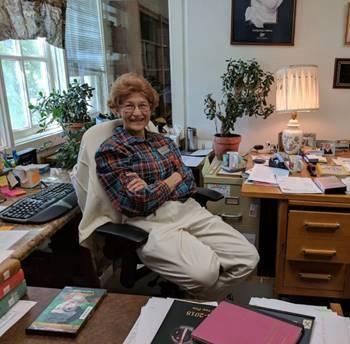 Thank You.
Those two words emphasize what librarians across the state, and especially within ODIN, think about everything Shelby Harken has helped with, created, and put into motion – from the early days of ODIN and continuing through to present day.  Her expertise in cataloging and discovery contributed to the success of each new system ODIN has launched.
Shelby serves as the ODIN contact for the Chester Fritz Library (CFL) and keeps herself informed of what is needed and expected of the software being used. She is a noted expert on all things cataloging and helps others as needed.  She has been a tester for OCLC's CORC project which leads to rules and procedures for cataloging online resources.  She has tested ClassificationWeb (Library of Congress), Resources Description & Access (RDA) and its accompanying RDA Toolkit which is a new set of guidelines for providing bibliographic & descriptive metadata.  She always strives to keep in mind how automation can help both her library and ODIN.
She has presented topics on Authorities and Headings; Triggers, Services and Statistics as well as Cataloging.  She attends ALA (American Library Association), ELUNA (Ex Libris Users Group of North American), UMWUG (Upper MidWest Users Group) and NDLA (ND Library Association) meetings regularly.  She is a class act that never fails to deliver her best.  ODIN salutes & thanks SHELBY HARKEN.
Here are a few highlights Shelby has shared regarding her memories and involvement with ODIN over the years:
Ed Warner, Chester Fritz Library Director, realizing that they were not prepared for the very first vendor demos, asked Shelby, Joan Erickson, Mike Safratowich and Marilyn Kercher to quickly write an RFP in hours that would have normally taken weeks. He brought in pizza, Chinese, etc. and the group worked into the late hours to get the job done. The proposal emphasized how a full system was needed, not just a circulation instrument.
During the PALS era, Shelby prepared documentation of why things didn't work and needed to be reported to Ameritech Support (PALS parent company for a bit).  If problems arose getting through to Ameritech, Gary Johnson (South Dakota) and Shelby packed up boxes of problem documentation and brought them to Ameritech meetings. Ameritech told them that over 50% of the problem reports for all their customers came from the two of them.
Back in the PALS days, software was not in the cloud, but rather on a large mainframe computer.  In order to use PALS, diskettes were used and loaded on computers in the libraries. Shelby spent many hours duplicating software for distribution on diskettes and mailed them out for installation at each ODIN library.
Training was done by driving to the libraries, demonstrating functionality, and sitting with them to discuss how they wanted to set up their circulation policies. Libraries were not supported with technology in those days. In one case people were in two rooms so Shelby had to "yell" so everyone could hear.
Shelby put together the first ODIN manual in 1992 with instructions on how to set up things like circulation polices and how to create a report. 
Shelby served as chair of various groups: Cataloging Users Group, Database Users Group, Cataloging Working Group and often attended other meetings such as the ODIN Advisory Council, Circulation and Interlibrary Loan. She helped set the Universal Marc Editor policies, including the Base Record Policy on using OCLC standards as the standard for records in ODIN.  Her expertise was instrumental in assisting other libraries get their OCLC or Aleph tables set up in order to get their cataloging done.  Her wealth of knowledge could be counted on to explain how the software worked when decisions needed to be made.
Shelby created a newsletter to inform ODIN users of changes to the software or new activities – it was entitled ODIN Information Notes.
Shelby developed a comprehensive questionnaire in 1995 which gathered advice from ODIN libraries on their priorities with the PALS software.  Interestingly enough, during the next two years, PALS decided to close shop and ODIN needed to begin getting ready to move to a new system.
In early 1997, a vendor task force was established with Mark Bowman (ND State Library), Shelby Harken (Chester Fritz Library), Janet Essency (Minot State University), Nadine Kotowicz (UND Computer Center) and Ellen Kotrba (ODIN Office) as members.  Their charge was to guide the study of integrated library systems, including the identification of desired features, organizing vendor demonstrations and developing and/or guiding the development of an RFP.  Shelby coordinated gathering of functionality wish lists to be included in the RFI/RFP process.
In 2000, she started work on the RFP for what would be awarded to Ex Libris and their Aleph ILS.  She also prepared questions to ask at vendor demos and came up with excel files to tally scoring from participants.
Over the years, she has spent a lot of time assisting the ODIN Office determining the best practice for loading large batches of records (MARCIVE, CIS, etc.). She has tested and re-tested Marc tags to ensure they are used properly.
In 2012, Randy Pederson & Shelby spent many hours directly with Ex Libris to help Ex Libris staff set up Primo for the Chester Fritz Library.
Shelby participated in development of what is now the Metadata Editor in ALMA.
She is a member of the ODIN ILS Technology-Library Systems Tracking Group that has spearheaded, among other projects, the search for a library services platform for academic libraries.
Shelby, a huge thanks for a job well done and for continuing to share your talents today!